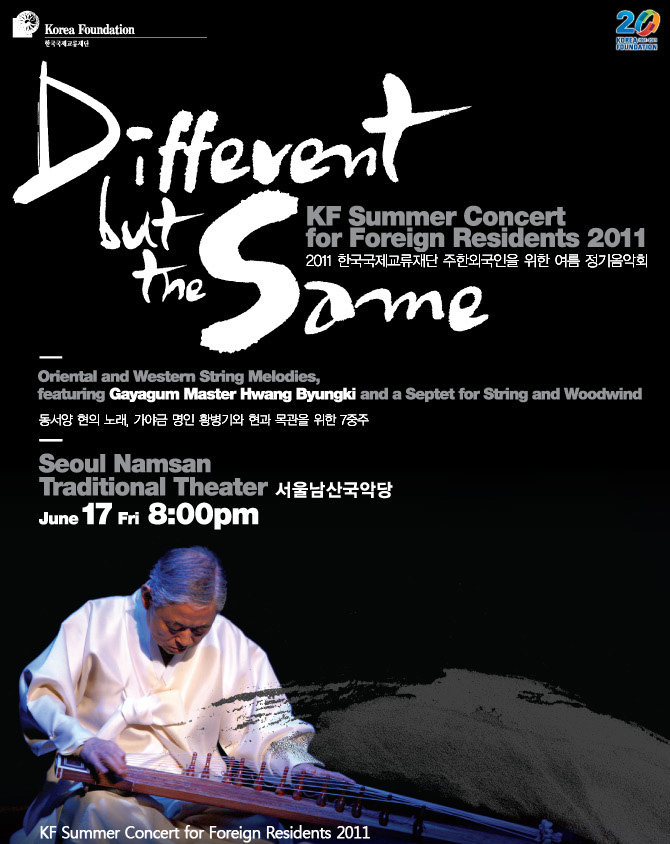 Different but the Same
(KF Summer Concertfor Foreign Residents 2011)
The Korea Foundation presents the ¡°KF Summer Concert for Foreign Residents 2011¡± at the Seoul Namsan Traditional Theater in Namsangol Hanok Village on Friday, June 17, at 8:00 p.m.
Every June, the KF Summer Concert for Foreign Residents has been held to let foreign residents in Korea have a chance to see the beauty of Korea though the performance of traditional Korean music. In celebration of the 20th anniversary of its establishment this year, the Foundation holds this year¡¯s concert, with the theme of ¡°Different, but the Same, ¡°to provide audiences with an opportunity to listen to the different and yet the same tunes and musical expression of Korean music through the harmony between the traditional Korean musical instrument gayageum, played by renowned gayageum performer Hwang Byung-ki, and Western strings.
Hwang Byung-ki is the greatest gayageum virtuoso of our time who is a player of, as well as composer for, the instrument. With original compositions that inherit the tradition of Korean music while incorporating modern and intermational feel as well, he has touched the hearts of not only people in Korea but also in other parts of the global community.
We hope you can join us for an evening of beautiful string sounds created by a septet for a gayageum and Western strings and woodwinds.
If you wish to attend the concert, please make a reservation on the ¡°Join the KFCC Events¡± board on the Foundation¡¯s website (
www.kf.or.kr
) from June 8 to June 14.
Foreign residents will be given priority in the ticket allocation process. For information on reservations for local residents, please refer to the notice to be posted on the ¡°News & Notices¡± section of the Foundation¡¯s website.