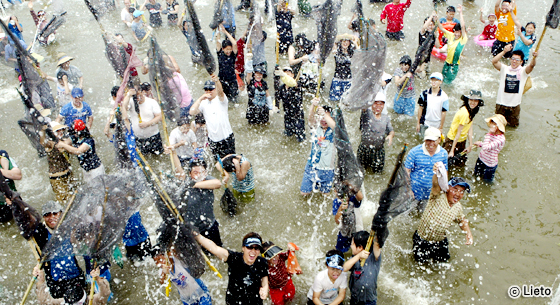 Period : 07.30.2011 ~ 08.07.2011

Address : Gyeongsangbuk-do Bonghwa-gun Bonghaw-eup Naeseongcheon Stream

Location : Naeseongcheon Stream area

Introduction
The growing season of the sweet fish is between late spring and early summer. Since sweet-fish are very fragrant and nutritive, it is good to eat them raw, grilled with salt, fried, or made into porridge. The Bongwha Sweetfish Festival, held every summer, provides unique chances of catching sweetfish firsthand and frolicking in very clean water. Visitors can see and learn all about unique fresh-water fish including trout and swiri.
The Field Museum, Historic Museum, and Exhibition on Ceramic Art as well as Famous Local Products will give visitors a good opportunity to have diverse cultural experiences. Unlike other festivals, visitors should pay the admission fee at the entrance of the festival site.
Festival Guide: During the festival period, visitors can sign-up on the spot for a water race along Naeseong Stream and winners will be rewarded with famous local products. The Sweetfish Experience will be held twice a day and there will also be a Night Fishing Experience. What's more, participants of the festival can enjoy the charged Bare-Handed Fishing. However, a visitor cannot catch more than five fish.
There are many hands-on programs, which include a small fee. Among them, the Water Bicycle Experience is strongly recommended, especially for visitors with families. Besides the hands-on water programs, there will be a Horse Riding Experience which will be held in the pasture areas.
There are also free hands-on programs such as a Rafting and Crossing Single-log Bridge Game, in which one of team members who fall into water will be the loser.
In addition, visitors can enjoy themselves more by participating in various hands-on programs including Insectivorous Plant Exhibition, Charcoal Products Exhibition, Wooden Craftwork, and Stuffed Animal Specimen Exhibition. At the Fresh-water fish Exhibition Center, about 30 kinds of rare fish like trout, lenok and swiri live in either the Nackdonggang River or the Hangang River.
Festival Highlights: For visitors who want to have more unique experiences, the Sweet fish Experience is highly recommended because visitors can catch fish by themselves. Moreover, there will be a cooking site for visitors who want to grill and fry the fish that was caught. However, visitors without any fish, too, can have a chance to cook them because they can buy the fish at the festival.
What's more, visitors with admission tickets can apply for a Cultural Heritage Bus Tour on the spot.


Admission/Participation Fees

* Admission Fee: Adult 10,000 won / Child 8,000 won
Some participation fees may be charged according to each program.


Transportation

Take a bus for Bongwha at the Dong Seoul Terminal (07:40, 09:40, 11:50, 13:50, 16:10, 18:10/ Travel Time Required: 2 hours and 40 mins) >> Get off at the Bongwha Bus Terminal and cross the Naeseong Bridge at the left. (The festival site is located on the right-hand side of the bridge)


Homepage
bonghwafestival.com (Korean only)