Sinchon (신촌)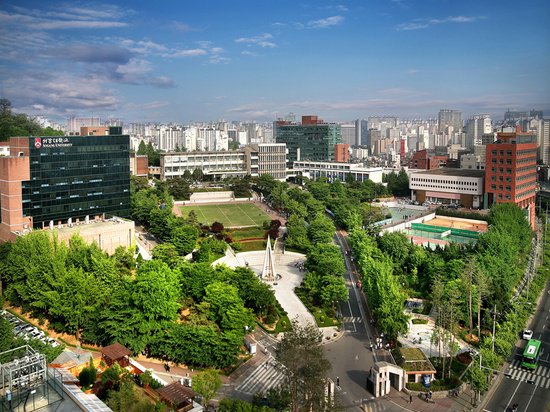 Sinchon, where Sogang is located, is known as the University District of Seoul. In addition to Sogang, other major Universities including Yonsei, Ewha and Hongik are all found in the surrounding area. Because of the International Studies programs most of these schools offer, Sinchon has become a hotspot for both Koreans and foreigners to converge on. The area is also famous for its shopping and nightlife. It is jam-packed with restaurants, bars, cafes, and clothing stores that cater to Korea's youth. Also found in Sinchon is the Hyundai Department Store along with a Megabox movie theater.
Where to shop?
Myeongdong (명동)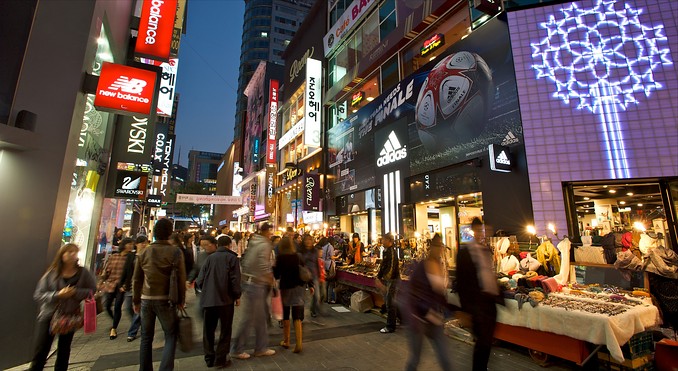 Located near Namsan, Myeongdong is one of the busiest shopping districts in Seoul. Here you can find a lot of brand name stores alongside independently owned shops. Myeongdong is also famous for its abundance in delicious street food. It is located on subway line #4.
Edae (이대)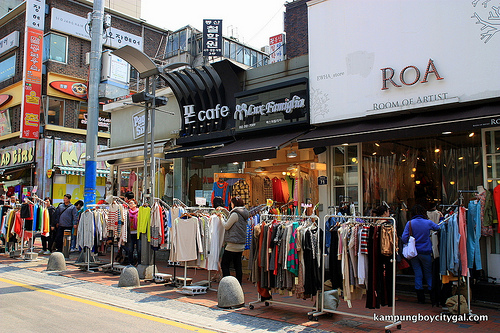 Edae refers to the area located in front of Ewha Woman's University near Sinchon. Here you can get lost in a maze of alleys bustling with small shops selling affordably stylish clothing, shoes, bags and trinkets. Although most of the shops focus toward women, there are also many menswear stores. A great number of hair and nail salons can be found in the area as well as cute cafes and restaurants. Edae station is one stop away from Sinchon on line #2.
Coex Mall (코엑스몰)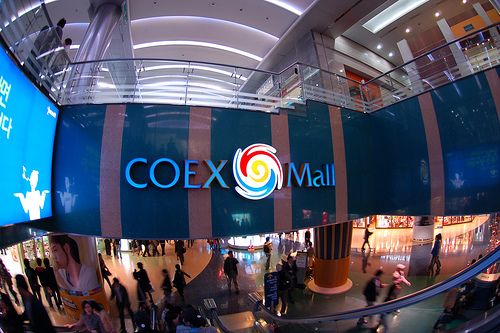 Coex Mall is the largest underground shopping center in Asia. Located in the south in the district of Gangnam, there are many attractions to be found there other than just shopping. The Game Champ video arcade has 100 of the latest game devices, while the Megabox Cineplex has 16 theaters screening a wide selection of movies. Other popular attractions include the COEX Aquarium, with its water tunnel, and the Kimchi Museum, where visitors can learn everything they need to know about Korea's staple-food, and even sample some of it. Just try not to get lost! Coex is located at Samseung station on line #2.
Nightlife
Itaewon (이태원)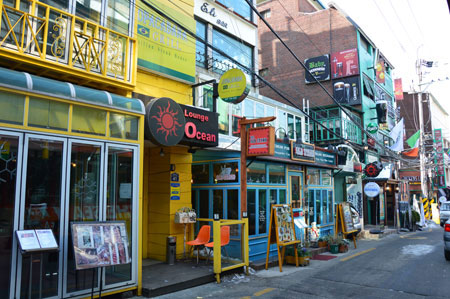 Itaewon is a unique place in Seoul where one can meet people of diverse cultures and nationalities. It is known as a destination for internationals to enjoy a mix of culture, shopping, and entertainment experiences. In recent years, the street that sits behind the Hamilton Hotel near the station has exploded with new, trendy restaurants and pubs. One can find almost any type of ethnic food in Itaewon from Bulgarian to Thai to African to burgers and fries. Itaewon station is located on subway line #6
Hongdae (홍대)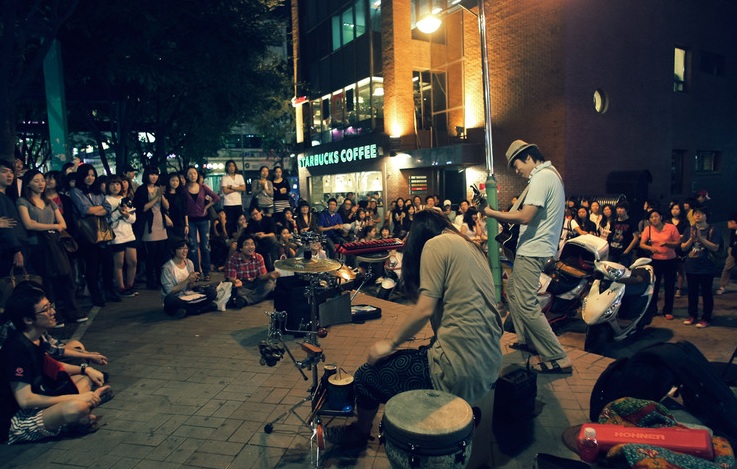 Hongdae is the name for the area that sits in front of Hongik University. Hongdae is famous for its vibrant nightlife and artistic vibe. Because the university is well-known for its Fine Arts education, the area around it is filled with independently owned shops, bars, clubs and restaurants that cater to Korea's art and indie music scene. Hongdae is also a great place to shop and explore during the daytime. Hongdae is located just one stop away from Sinchon on line #2.

Gangnam (강남)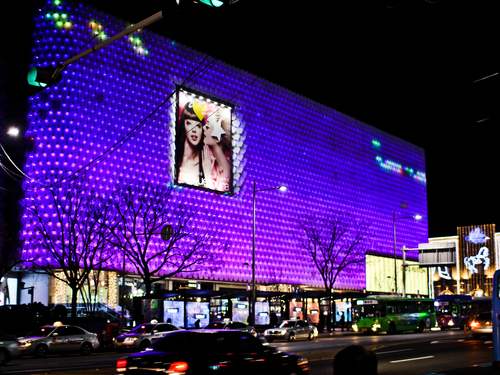 Recently immortalized by Korea's golden-child, PSY, Gangnam is one of the most affluent and busiest districts in Seoul. There are many different areas within Gangnam that are popular places to hang out. Apgujeong-dong (압구정동) and Garosu-gil (가로수길) among them, contain upscale department stores, shops, designer boutiques, private educations, cafes and restaurants. Apgujeong in particular is Seoul's luxury fashion mecca. And in the center of the Apgujeong's fashion world is Rodeo Street, which takes after its famous Beverly Hill's counterpart. Other attractions can be experienced in the area around Gangnam station, which is found on subway line #2.
Cheonggyecheon Stream (청계천)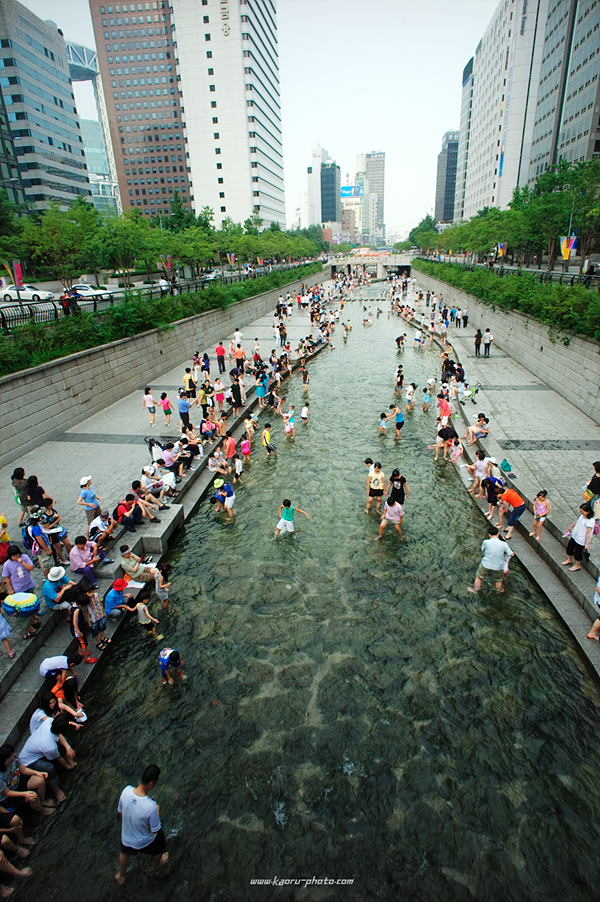 Historically named Gaecheon ("open stream"), this stream was first constructed during the Joseon Dynasty in order to create a drainage system for the city. It was then covered up by an overpass after the Korean War. Recently restored in 2005, Cheonggyecheon has become a popular spot for Seoul residents and tourists to visit. During the summer, it is an ideal spot to cool off and relax. The Stream passes close to Deoksugung Palace, Seoul Plaza, the Sejong Center, Insa-dong Street, Changdeokgung Palace, and Changgyeonggung Palace, allowing visitors to easily visit major tourist sites after a leisurely stroll along the stream.
Han River Park (한강공원)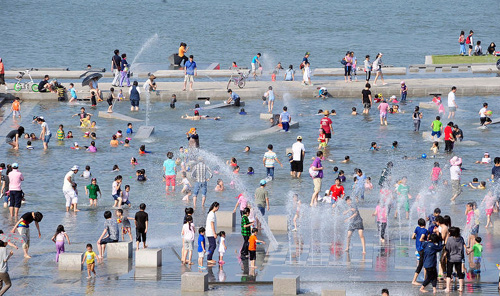 Another popular spot to cool off in summertime is the enormous park system along the Han River. The park is divided into 12 districts but the most popular are in Yeouido and Ttukseom. During the springtime, Yeouido is famous for its beautiful cherry-blossom displays. In the summertime, you can rent bicycles and ride along the river or splash around in one of the many fountains. The island of Yeouido is where all the major TV Studios are located so many dramas are filmed in the park. Ttukseom Park is known as the windsurfing and water-skiing mecca. You can experience all sorts of leisure sports here.
Traditional Sites

Gyeongbokgung Palace (경복궁)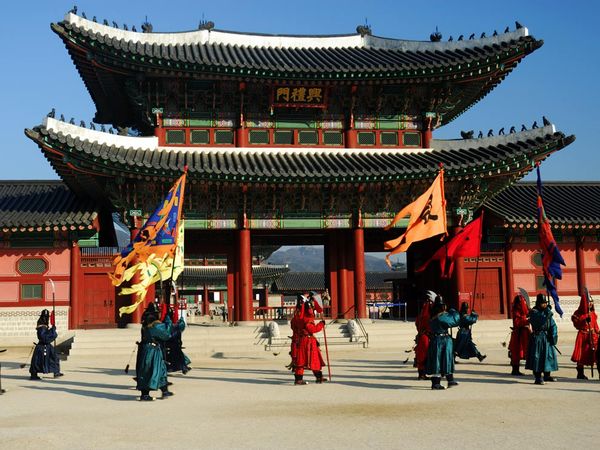 The main palace of the Joseon Dynasty, Gyeongbokgung is located in the north of Seoul near Jongno. First constructed in 1395 by King Taejo, it was later burned and left abandoned for almost 3 centuries. Since 1867 it has undergone reconstruction and restorations and is still to this day. It is located on subway line #3.