Gonzaga Hall (2)
Double rooms (2 occupants per room)


Located on campus

All rooms equipped with air conditioner, bathroom, high speed internet access, private telephone, student furniture, shower equipment and wardrobe.

For Gonzaga Hall, a dormitory ID will be issued at the Office of Gonzaga Hall. The ID should be carried at all times and presented upon request of the security staff.

Coin-laundry machines can be used 24 hours a day in a laundry room in each dormitory.

A Fitness Center is available from 6:00 A.M. to 1:00 A.M. in each dormitory.


Hospital and pharmacy information is available in the dormitory.

Curfew is 12:00 A.M. for Gonzaga Hall, and 12:30 A.M.

Students staying in the dormitory must follow the dormitory regulations. Students who do not follow the regulations may be asked to leave the dormitory. In this case, the dormitory fee will not be refunded.
It is recommended that students stay in the dormitory on campus. If you would like dormitory housing, the dormitory fee should be paid in full along with other fees by

May 16, 2020.

Check-in: June 28 (Fri. 1pm ~ 5pm)

Check-out: July 25 (Sun. 9am - 5pm)

For detailed information, please go to "Gonzaga Hall"

The applicants for the dormitory will be assigned on a first come, first served basis.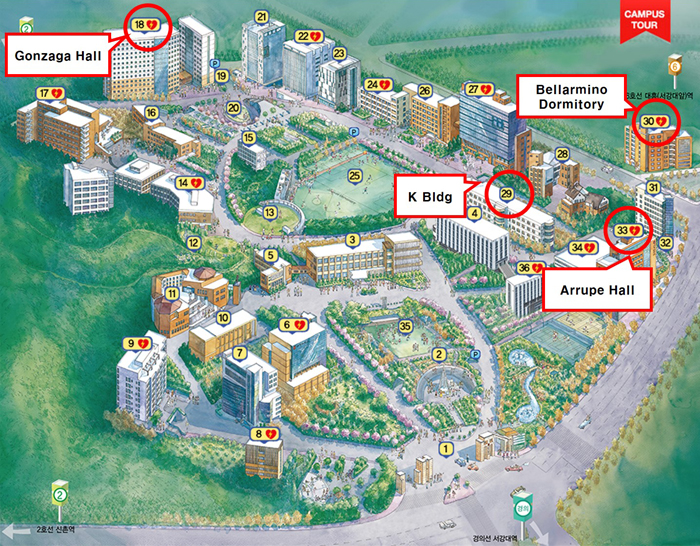 Medical certificate: You will need proof a recent health check or medical certificate from your doctor, which you are requested to submit to the dormitory office. (You may find the sample certificate if you click this sentence.)